HOME

About DSS

Continuation from Home Page ...


My career has spanned several phases... bird photography, landscapes, golf courses, interiors for Sotheby's, corporate work, and a heavy dose of resort and hotel projects. My strength is that I am comfortable and competent from still-life product work to more lively lifestye -- and a lot of aerial works. I do like to fly.
All these phases have been ongoing and the extremes seem to feed on my current skills.
---
I grew up in Litchfield, Connecticut in the foothills of the Berkshires & earned a degree in Cultural Anthropology from Amherst College, Amherst, Massachusetts. I began to seriously photograph while serving as an expedition mechanic for Land Rover -- which was pretty much world-wide. It was during those years that I developed a love for birds and landscapes, and consequently moved to SC to pursue photography and writing. During those years I actively photographed and wrote for the likes of National Wildlife, National Geographic, GEO, and Smithsonian. I still write and photograph stories when time permits.

In the 90's, I merged my "nature" inclinations into commercial and advertising work and began specializing primarily in resort-development projects, and I do this nation-wide.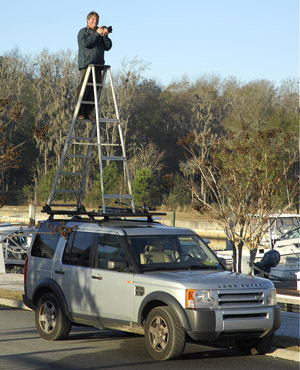 This is my current rig...very mobile. The extra 18 feet provides a lot more information and perspective control.